Sahamati Support Portal - Session #3 - Growth through collaboration
Continuing the monthly series of meetings with the Live- participants, Support Portal hosted session #3 in December 2022, themed "Growth through collaboration". The event had good turnout of close to 50 participants, and discussed the various root cause for grievances and failed transactions in the AA ecosystem. The meeting also emphasized on the need for transparency on the FIP API health.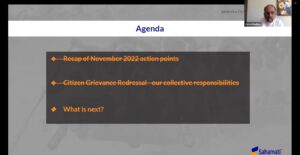 This event series is open for all Live Participants of AA ecosystem. Please reach out to info@sahamati.org.in to participate in future events.