Uday-Sahamati Account Aggregator Case Study Competition 2020 Results
Sahamati partnered with Mumbai FinTech Hub for its first edition of the Uday Case Study Competition which concluded on 29th June 2020. The competition invited young participants across the country to form teams and send in innovative ideas of how the Account Aggregator (AA) framework could be used to further improve financial services (beyond its current envisaged scope).
The objective was to tap into the creative young minds of the country to explore and expand the capabilities of the AA framework.
After receiving a number of good responses during the initial idea submission stage, the top 10 teams were shortlisted based on the innovativeness, impact and practical implementability of their proposed ideas.
Panel of Judges
These teams were then given 2 weeks to flesh out their ideas and present to a panel of industry experts.
The teams received extensive mentorship on developing their ideas from this panel – including Amit Saraf (Reliance Jio), BG Mahesh (Sahamati), Hitesh Sachdev and Deepak P (ICICI Bank), Kantharaju HG (Perfios), Karan Javaji, Lalitha Nataraj (IDFC First Bank), N R Sudarshan (CAMS) and Venkatesh Varadarajan (Yodlee FinSoft).
Judging Process
The top 10 teams presented their use cases before the industry experts' panel on 25th and 26th June 2020. Each team was given 8 minutes to put forth the problem they were trying to tackle, the solution they proposed and the implementation plan to achieve their ideas, followed by Q&A with the panel. The panellists were very impressed with the ideas presented and had a tough time finalising the top ideas.
Winners
After much deliberation, the top 2 ideas were awarded: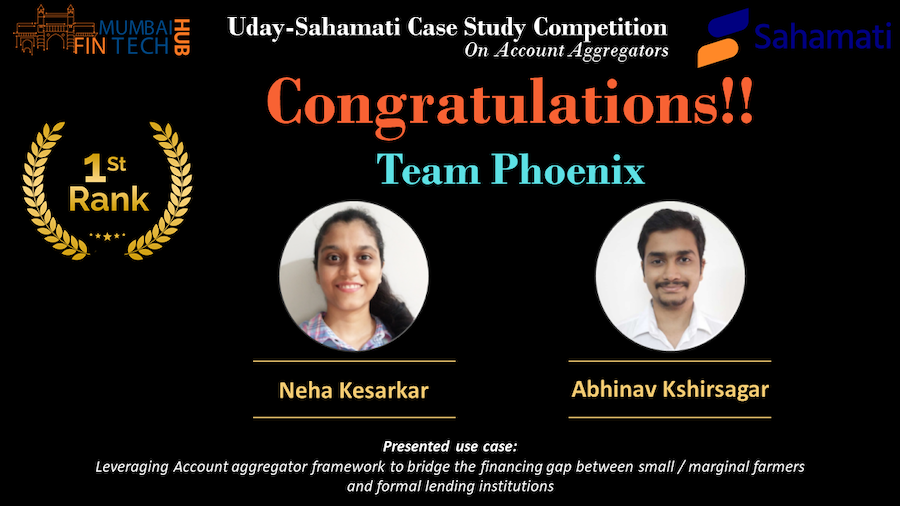 The competition was won by Team Phoenix led by Neha Kesarkar along with Abhinav Kshirsagar. The team's idea revolved around leveraging the account aggregator framework to bridge the credit gap between small/marginal farmers and formal lending institutions.
The competition runner up was Team Nivesh led by Aditya Garg along with Anansh Gupta and Onkar Garg. The team presented a use case on using the account aggregator framework to offer hassle-free, transaction-based trade credit insurance to Indian MSMEs.
Congratulations to the top 2 winning teams! We are excited to announce that these 2 teams will be given an opportunity to present their ideas during Sahamati Hackathon on 4th July 2020 to the developer community that will be participating in the Hackathon.
The Case Study Competition provided Sahamati with a number of bright ideas to think about. We would like to thank all the participants for their energy and creativeness. We would also like to thank the industry panelists who invested significant time to mentor and judge the ideas for the competition.
Stay tuned for more opportunities to engage with Sahamati in the future!!