Online Dispute Resolution (ODR)
ODR is a modern, technology-driven way of resolving disputes between parties. It leverages technology to provide an alternative to traditional court procedures through means of conciliation and arbitration in a time-bound, cost-effective, and convenient way.
Introducing Vikalp
Sahamati has empaneled multiple ODR institutions to conduct the dispute resolution process in a fast, confidential, transparent, neutral and legal way.
Vikalp, powered by Sahamati, facilitates resolution of AA-related disputes by providing a platform for network participants, their customers and the empaneled ODR institutions. Participation of network participants will ramp up in phases in the coming months.
When are consumers eligible to use ODR?
The complaint is related to the Account Aggregator Network
The consumer has reported the complaint to their Financial Institution
The consumer is not satisfied with the resolution provided to them
The complaint involves participants who are part of the Vikalp platform
Overview of the consumer journey
Visuals are for illustrative purposes only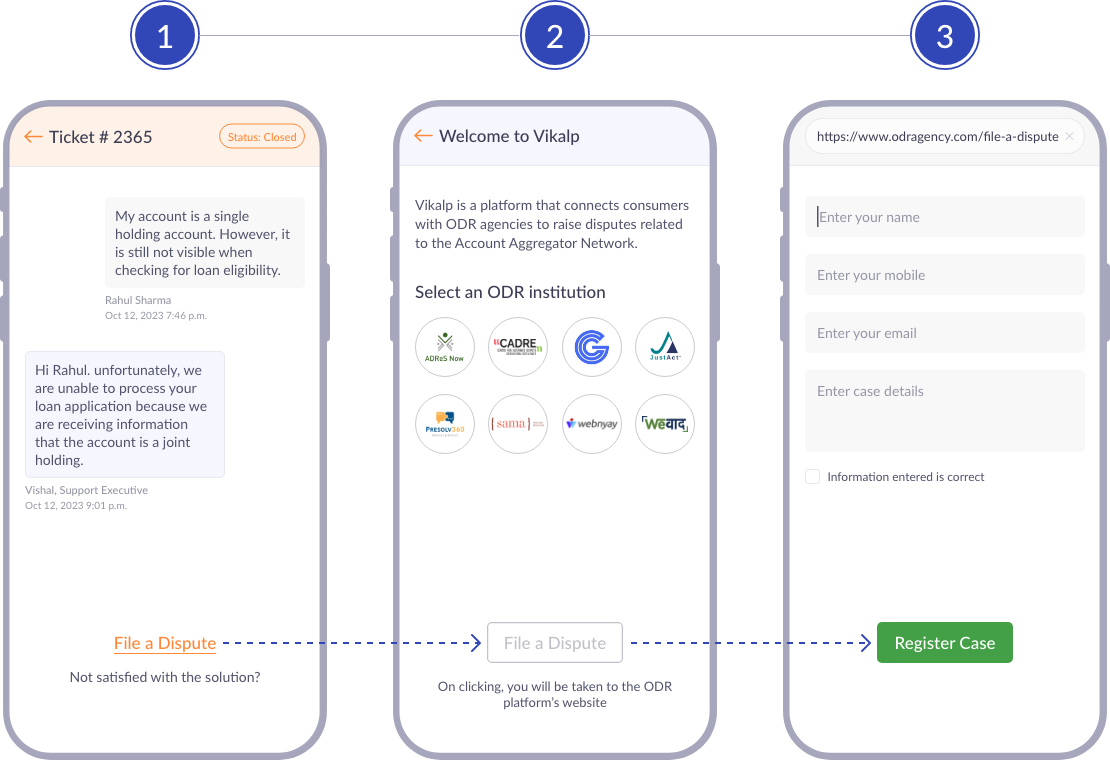 Consumers will discover the option to file a dispute as part of the FIU or AA experience.
This ensures a documented case history with consumers.
The Vikalp page*, powered by Sahamati, will educate consumers about ODR.
Consumers can select an ODR of choice to proceed further.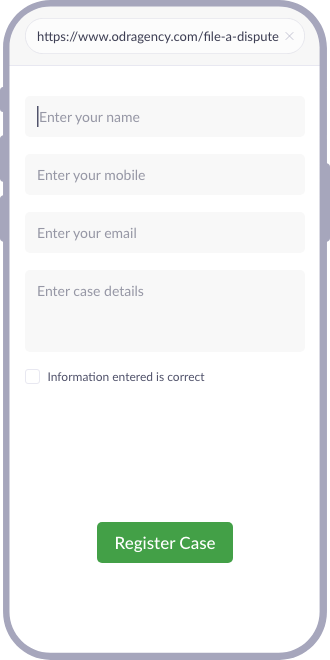 Consumers will land on the ODR institution's website which will create further awareness.
They will register and enter case details to file a dispute.
*Consumers can access the Vikalp page only using the FIU/AA app
A collaborative approach to launching ODR
FIUs and AAs to have 100% flexibility to design ODR discovery
Sahamati to partner closely with ODR institutions to set them up for success
ODR institutions to resolve issues between consumers and the network
How ODR works for the AA network

Key responsibilities of ODR institutions
ODR process to provide mediation/conciliation and arbitration as resolution options
ODR process should be conducted as per best practices and predefined SLAs
ODR institutions to ensure process and resource readiness
ODR Fees and Procedural Settlement
The monetary model is designed for ease of consumer adoption, network participation, and benefit of empaneled institutions
Fee structure to comprise of a conciliation fee and an arbitration fee
While these components of the fee structure will be uniform across ODR institutions, they price can vary as per their discretion
The procedural settlement – either as part of conciliation or arbitration – can include non-monetary solutions/relief to the concerned party/parties
Consumer-determined claim amount is not part of the initial scope
Conciliation settlement to be addressed by the concerned party/parties as per the decision
Arbitral award to be addressed by the judgement debtor(s) as per decision
Interested in being a network leader in adopting ODR?
contact us at info@sahamati.org.in