Sahamati participation in Panel Discussion at Bengaluru Tech Summit 2022
Sahamati participated in a panel discussion in the 25th edition of Bengaluru Tech Summit 2022 organized by the Dept. of Electronics, IT, Bt and S&T, Govt. of Karnataka, on 18th November 2022 at the iconic Bangalore Palace. B.G. Mahesh was invited to be a Panelist at the session 'Digital Public Goods' on the Topic: 'Breakthroughs in DPG implementations'.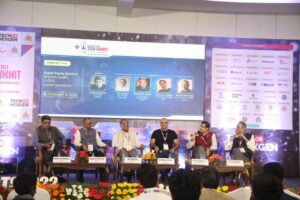 Mahesh elaborating on the workings of Account Aggregators framework, discussed about ease of sharing of bank statements and loan underwriting for pocket-sized loans. The transactions are not only easy and secure, but give the control of the information to the citizen who is well aware of how his/her data is being used and and for how long it is stored/used.
Click here to view the full discussion on AA and OCEN