Economic Survey 2022-23: AA Transforming India's Financial Services
Today, the Economic Survey (ES) 2022-2023 was tabled in the Indian Parliament by our Union Minister for Finance, Nirmala Sitharaman. Economic Survey reviews the performance of the economy for the last fiscal year and gives a medium-term outlook for economic growth. The Report highlighted the role of Account Aggregator and such other digital public goods in shaping the economy in the medium term.
Speaking at a press conference held on Economic Survey, India's Chief Economic Advisor V. Anantha Nageswaran said Digital Public Infrastructure reforms are a catalyst for India's future growth.
New Age Reforms are expected to contribute to 60-100 bps of GDP growth.

– Chief Economic Advisor, V. Anantha Nageswaran
Key Extracts from the Economic Survey 2022-23 regarding Account Aggregator framework
CHAPTER – 02 – India's Medium-Term Growth Outlook: With Optimism and Hope
Reforms for New India-Sabka Saath Sabka Vikaas
I. Creating public goods to enhance opportunities, efficiencies and ease of living – Greater financial inclusion and access to credit incentivise higher consumption and investment, leading to higher economic growth. Some of the recently introduced digital initiatives, such as the Open Network for Digital Commerce (ONDC) and Account Aggregator framework (AA), will open up further avenues for e-commerce market access and credit availability for smaller businesses and strengthen the expected economic growth in the medium term.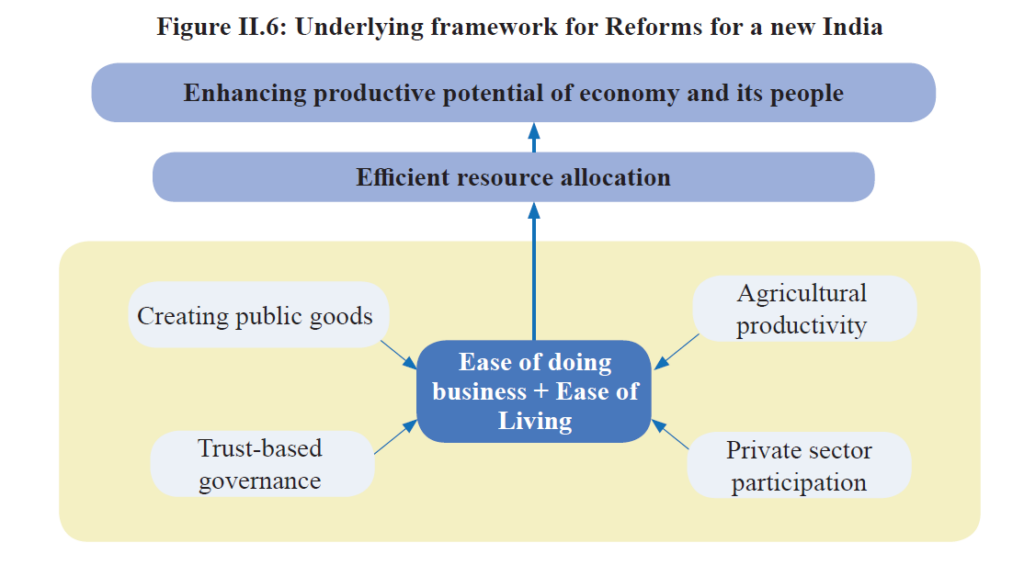 III. Promoting the private sector as a co-partner in the development – Onboarding GSTN as a Financial information provider, Reforms to address the structural challenges faced by MSMEs have been a vital part of the industrial policy in recent years on the Account aggregator platform will open up avenues for access to credit for MSMEs. Enhancing opportunities and productivity of the MSME sector have large-scale implications for a resilient production ecosystem, thus strengthening the growth prospects of the industry and the economy as a whole. These reforms, therefore, must continue.
CHAPTER – 10 Services: Source of Strength
Box X.5: Account Aggregator Framework: Transforming India's Financial Services
Account Aggregator (AA) is a Non-Banking Financial Company (NBFC) engaged in the business of providing the service of retrieving or collecting financial information pertaining to the customer. No financial information of the customer is retrieved, shared or transferred by AA without the explicit consent of the customer. AA transfers data from one financial institution to another based on an individual's instruction and consent. Registering with an AA is fully voluntary for consumers. Entities may enrol themselves on AA framework as Financial Information Provider (FIP) viz. banking company, non-banking financial company, asset management company, depository, depository participant, insurance company, insurance repository, pension fund etc. and as Financial Information User (FIU) which is an entity registered with and regulated by any financial sector regulator. In this direction, RBI has issued the Master Direction viz Non-Banking Financial Company –
Account Aggregator (Reserve Bank) Directions, dated September 02, 2016. At present, RBI has granted a Certificate of Registration to six companies as AA.
Achievements so far
As on 31st December 2022, 27 Financial Institutions have gone live as FIPs, including all 12 PSBs, 10 Private Sector Banks, 1 Small Finance Bank, and 4 Life Insurance Companies.

119 Financial Institutions have gone live as FIUs viz; 93 RBI Regulated, 12 SEBI Regulated, 12 IRDAI-regulated entities, and 2 PFRDA-regulated entities.

With 23 Banks onboarded to the Account Aggregator framework, more than 1.1 billion bank accounts are eligible to share data on AA. 3.3 million users have linked their accounts on the AA framework out of which 3.28 million users successfully shared data via AA.
RBI has also notified Goods and Services Tax Network as FIP on 23rd November 2022 which will enable digital invoice financing and provide much-needed credit to the MSME sector.
– Source: Economic Survey 2022-23
CHAPTER – 12 – Physical and Digital Infrastructure: Lifting Potential Growth
12.79 The government has also taken initiatives towards empowering individuals with control over their data to access essential services related to finance, health, education, and skills digitally.
The Account Aggregator (AA) is a global techno-legal framework that enables individuals to share their financial data quickly and securely, with their consent, with any regulated third-party financial institution of their choice. The AA framework is currently live across over 110 crore of bank accounts.
All of these developments are a testament to the fact that India has been one of the few countries where innovation in technology and digital connectivity has been and continues to be led by the public sector. The success of UPI, a common platform that serves as the backbone for diverse developments, has prompted government to task itself with another innovative attempt towards democratising digital commerce through the ONDC which could potentially transform how businesses and consumers interact at present.
Empowering the end-users with control over their data is an essential ongoing task that is guided by the Account Aggregator framework.
12.86 With the advent of new technologies, we are witnessing new regulatory challenges. Technology and innovation are, per se, neither constructive nor destructive. The use cases present the positive aspects of technology and innovation. The government is committed to keeping pace with the digital landscape developments including those related to legislations and frameworks. While the digital journey started with Aadhaar as a medium for service delivery at the doorstep, UPI strengthened the digital payment infrastructure. With other initiatives like Co-WIN, e-RUPI, TReDS, Account Aggregators, ONDC, etc. at different stages of implementation, India has developed a unique and cogent digital story to tell. The journey is ongoing and there is much untapped potential in India's digital public infrastructure space.
Click here to read the document of Economic Survey 2022-23 online and here to download a copy.