The ChatGPT Era: How may we maximize financial inclusion with AI?
Insightful session by Shikha Agrawal, Chief Technology Officer-Data, Microsoft India, on how generative AI can maximise financial inclusion
She highlighted three primary use cases to support her assertion.
Generative AI, powered by large language models like GPT-4 and ChatGPT, has become a hot topic in the world of technology. OpenAI, the company behind these models, has a significant partnership with Microsoft. Shikha Agarwal, the Chief Technology Officer of Data for Microsoft, addressed the audience at SamvAAd 2023, on how ChatGPT can further financial access.
The session started with Bala Subramaniam, who leads the industry vertical for Banking, Financial Services, and Insurance (BFSI) at Microsoft, who set the context for the discussion with the SamvAAd audience. He highlighted the viral popularity of ChatGPT which reached millions of users within just two months of its launch.
Calling the momentum and interest (in ChatGPT) from the BFSI sector unprecedented, he drew a parallel between generative AI and account aggregators, both set to expand financial inclusion for the masses. Both aim to serve the underserved and unbanked customers, especially in the Indian market. With the combination of generative and predictive AI, Bala Subramaniam opined that ChatGPT and AA can unlock immense possibilities for the financial service industry.
Later, Shikha Agarwal shared insights on how generative AI can maximise financial inclusion. According to her, the core objective of any financial application should be to provide simple, frictionless, and equitable access to all. With the advancements in technology, this objective is now within our reach.
Traditionally, AI was a complex process involving a compute system, data collection, and a team of data scientists. However, generative AI, as demonstrated by ChatGPT, has changed this paradigm. In just a few weeks, ChatGPT reached one million users, demonstrating its transformative power. It is revolutionising every aspect of our lives, boosting productivity, and reshaping user experiences.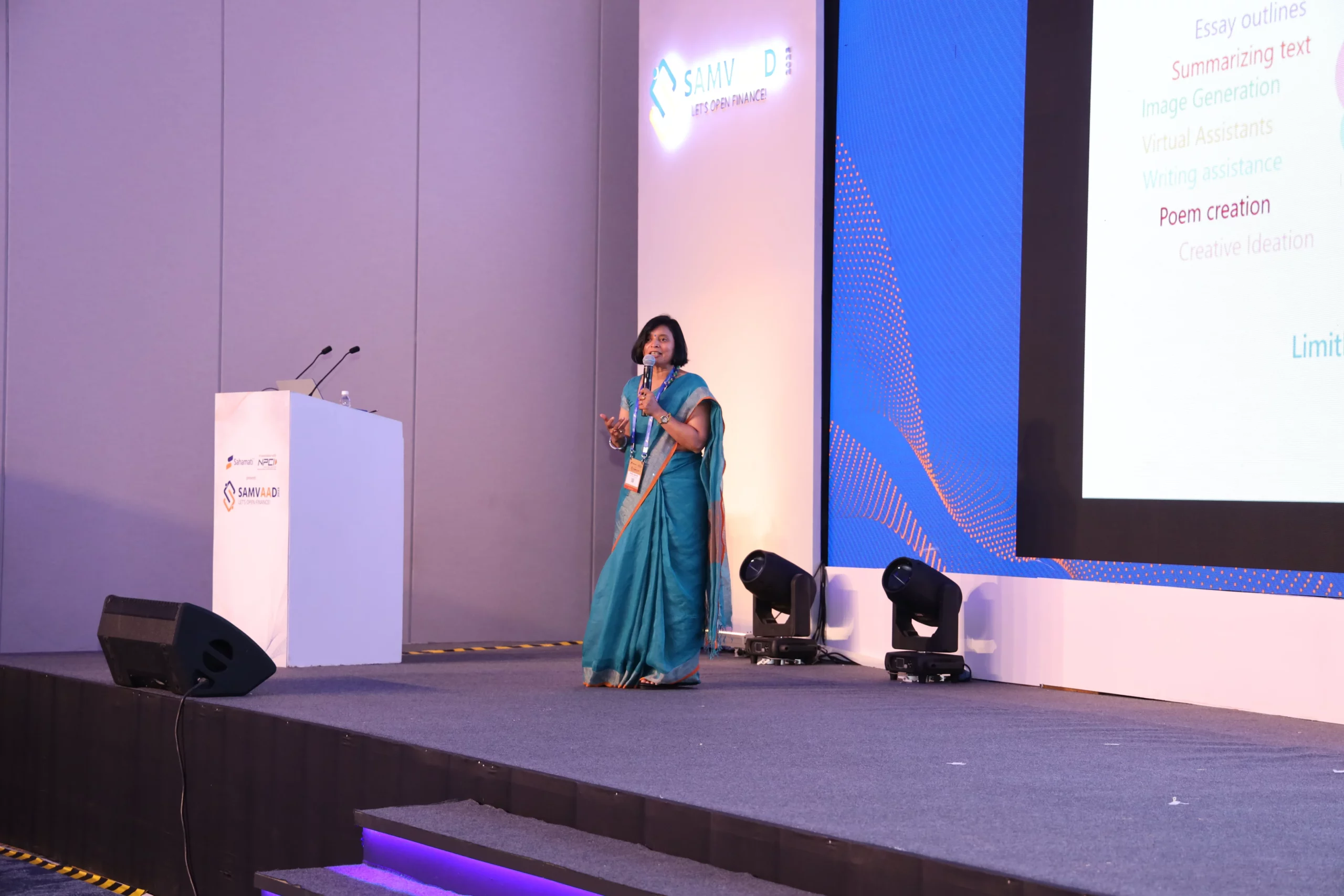 She expressed that these large language models have diverse capabilities, including data classification, summarization, intent understanding, and creative writing. To assert her opinion, she elaborated on three primary use cases.
Creating Awareness among the masses
Generative AI can be leveraged to raise awareness among users in rural areas about the benefits of the account aggregator ecosystem. By using a knowledge base and information retrieval systems, users can receive answers to their queries in their preferred language. For example, if someone in a rural area speaks Tamil, they can access information about the system in Tamil, thus bridging the language barrier.
Advanced Analytics can empower financial institutions
Generative AI goes beyond sentiment analysis, enabling financial institutions to gain deeper insights from conversations with customers. For instance, during a conversation with a customer facing difficulty in loan repayment, the system can analyse the dialogue, identify potential issues, and even retrieve relevant news information. This allows for a more empathetic and effective response, helping address financial challenges and provide suitable solutions.
Content Generation to enhance user experiences 
With generative AI, personalised workflows can be generated in real-time conversations. By understanding user intent and retrieving specific data, financial applications can enhance user experiences. For example, during a conversation, the system can extract relevant information from the data and combine it with real-time discussion to generate personalised solutions or recommendations tailored to the individual's financial needs.
Shikha concluded by emphasising that generative AI, represented by ChatGPT, holds great potential for maximising financial inclusion in a diverse country like ours. By leveraging its capabilities in creating awareness, conducting advanced analytics, and generating personalised content, financial institutions can drive equitable and user-centric financial services. The power of generative AI can break down barriers, provide access to information in multiple languages, and enable empathetic and effective interactions with customers.
Watch the entire session here:
We would like to thank Ajit Abhaykumar Bhale, ex-COO and Board Member of gslab.com, for contributing to the blog.