SamvAAd, the First Annual Account Aggregator Conference Saw Participation from 900 Plus Indian and International Executives
The keynote speech was given by Dr. V. Anantha Nageswaran
Mr. Nandan Nilekani graced the occasion as the Guest of Honour
11 AA use case projects were selected to 'showcase' their projects at the event
Sahamati, an Alliance for the Account Aggregator Ecosystem, successfully conducted 'SamvAAd-2023', the first-ever Annual Conference for Account Aggregator sector. The one-day event, held on May 24, 2023, saw participation from over 900 delegates from multiple sectors such as banking, mutual funds, insurance, Micro-finance and fintech firms.

Dr. V. Anantha Nageswaran, Chief Economic Advisor, GOI, gave the keynote address to the audience. Talking about the relevance and importance of Account Aggregators, Dr. Nageswaran emphasised on the fact that the simple concept of consent-based data sharing will leave huge impact on increasing access to financial services. Availability of granular and accurate financial information, right from sources, will thereby increase access to financial services without the drudgery and time consumption that it is associated with today.
Dr. Nageswaran's speech was followed by the first panel of the day, 'Progressive regulations: Foundation for scaling open networks'. The panellists Pramod Rao, ED, SEBI, Mr. R. Gandhi, ex-DG, RBI, S. Ramann, CMD, SIDBI discussed the importance of regulatory rails for sustained growth of any sector. They also encouraged start-ups to approach regulatory sandboxes for guidance and support. The session was moderated by Venkatesh Hariharan, India Representative, Open Invention Network.
The next session was followed by an insightful talk by Ms. Praveena Rai, Chief Operating Officer, NPCI.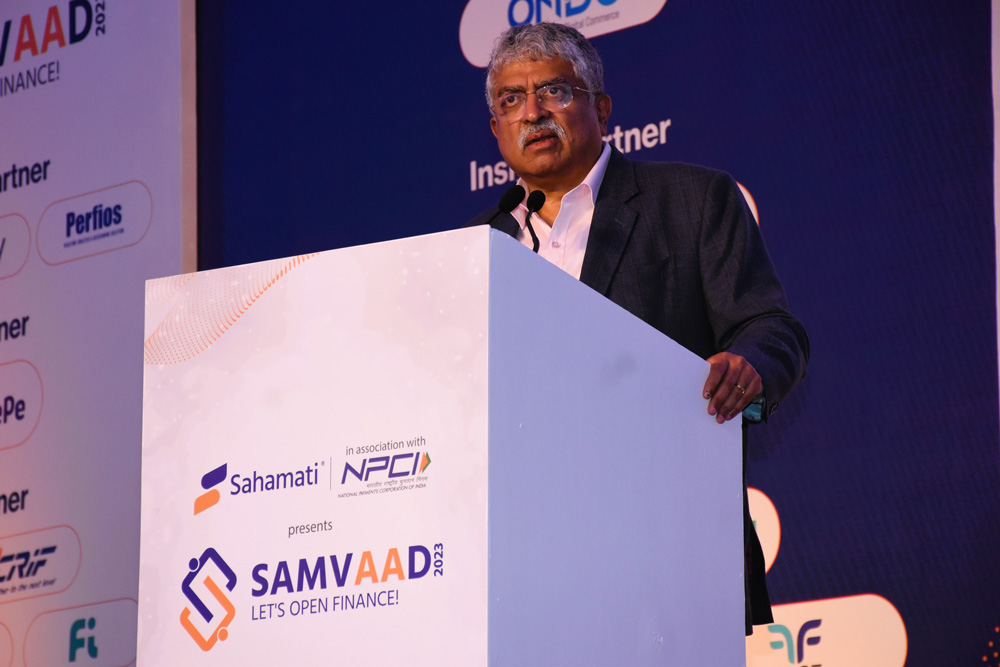 One of the most anticipated sessions, Insights from Mr. Nandan Nilekani followed by a Fire-side chat with him, focussed on the immense growth possibility that AA has. Mr. Nilekani said that AA has the potential to monetise the digital currency individuals have today, bringing people financial access like never before.
Sahamati has been supported by over 100 volunteers in multiple areas including advocacy, policy, technical, product and content. The youngest volunteer was just 15 years old. Twenty core volunteers were felicitated by Shri Nandan Nilekani during the awards ceremony at SamvAAD 2023.
SamvAAd also gave an opportunity to 14 innovative open finance use cases, selected through a rigorous and independent process. Teams of Account Aggregators, technology providers and FIUs (financial information users) were invited to showcase real demos of their organisations where they are using AA to solve delivering superior customer service and improve viability in serving all customer segments. The categories were defined along the six citizen needs that are being addressed through AA categorised as Easy Banking for every household; Easy access to instant short-term credit for individuals and enterprises; Access to long-term credit for buying an affordable home with minimal paperwork and without long waiting times; To get advice for building a balanced investment portfolio that can help families achieve its short-term and long-term financial goals; Affordable and adequate insurance cover to protect a family and assets from unforeseen and unfortunate events.
The power-packed conference was thoughtfully designed to encourage dialogues between policymakers, industry participants and thought leaders from the sector. Fireside chats, panel discussions and workshops by senior professionals from the industry ensured all aspects impacting the growth and early adoption of account aggregators were covered.
In the second panel of the day, 'The how-to guide for India', Deepak Sharma, President and CDO, Kotak Bank, Deep Agrawal, Head-Payments & Account Aggregator Business, PhonePe, Abhijit Gulanikar, President – Business Strategy from SBI Life discussed the emerging imperatives for open finance led financial inclusion in India. The panel was moderated by N.S. Ramnath, Founding Fuel.
The third panel, 'Exchanging ideas with the world' saw participation from Dr. Bill Roberts, Fellow, Cambridge University, Anil Mahalaha, Chief Evangelist, Akoya and Chanchal Sarkar, Advisor (G20). The session was moderated by Srinivas Jain, Executive Director, SBI Mutual Fund. The panel highlighted the thought behind the regulatory regimes defining open finance across the world.
Senior executives who shared their viewpoints and insights at the conference included, Shri. Karma Zimpa Bhutia, Joint Secretary Skills, Ministry of Rural Development; J Venkatramu, CEO, IPPB; Vinay S, ViP, Perfios; Ashwin Ramachandran, CEO, VuNet and Bharat Joshi, CPO, Vunet; Ankur Handa, Co-founder and CPO, Lentra; Shikha Agrawal, CTO-Data, Microsoft India; Soumendu, CPO, CAMS; Kanika Kumar, Director, IDEO; Dipika Prasad, Sr. Design Lead, IDEO; Keerthana Medarametla, Senior Curator, Agami.
After a resounding response from the entire ecosystem, Sahamati is determined to build 'SamvAAd' as an annual conference and an ongoing platform for all industry players to converge regularly.
Media Contacts:
Ruchi Pai, Sahamati, ruchi@sahamati.org.in
Nisha Khetan, CubicPR, nisha@cubicpr.com
Sangeeta Irani, CubicPR, sangeeta@cubicpr.com